Dr. Melissa Miller
Research Assistant Scientist
Invasion Ecology
Dr. Miller specializes in invasion ecology with a focus on understanding mechanisms through which biological invasions impact native ecosystems. Through applied and basic research of large invasive reptiles in the Greater Everglades Ecosystem, she addresses ecological and evolutionary questions to further our understanding of invasions and aid natural resource managers in invasive species control efforts.
Research

Biological invasions allow for study of unique natural experiments that aid our understanding of ecological and evolutionary processes. As an invasion ecologist, I employ my strength in traditional field methods to examine how invasive species impact native ecosystems and alter species interactions. I utilize large datasets amassed from field-collected specimens and apply a diverse toolset including phylogenetic analyses, population genetics, geometric morphometrics, spatial analyses, and statistical modeling. My research is interdisciplinary, with an overlap among varied fields (i.e., ecology, evolutionary biology, parasitology, global change ecology, herpetology, and molecular ecology). Due to the increasing frequency of invasions and the urgent need for effective management and eradication efforts, it is a necessity to conduct basic and applied research to provide a strong scientific foundation to guide natural resource managers and policy makers in decision-making concerning invasive species. The merging of academic research and invasive species management necessitates a collaborative effort and has allowed me to build and maintain collaborations with federal, state, and local agencies, tribes, non-governmental organizations, and numerous academic institutions. Therefore, the overarching objectives of my research program are to further our knowledge of how invasions affect ecological and evolutionary processes and to apply those findings to inform and advance management decisions and policy concerning invasive species. Current projects focus on examining the impact of emerging parasites and pathogens co-introduced with invasive species, linking invasive species removal efforts with their ecology, exploring innovative tools and technologies to increase effectiveness of control efforts, and statistical assessment of invasive species management strategies.

Extension

Extension services are a critical resource for biological invasions and can empower the public with the skills and expertise necessary to address the problem of invasive species. Dr. Miller's extension program aims to increase public awareness, early detection, reporting, and removal of invasive reptiles with the objective of preventing further spread and establishment of these species. To accomplish these goals, she works closely with agents, key stakeholders, and the public through outreach and education programs to raise awareness of nonnative species and their impacts, increase accurate identification, and provide information on ways to report sightings, which can lead to increased detection and removal of invasive species.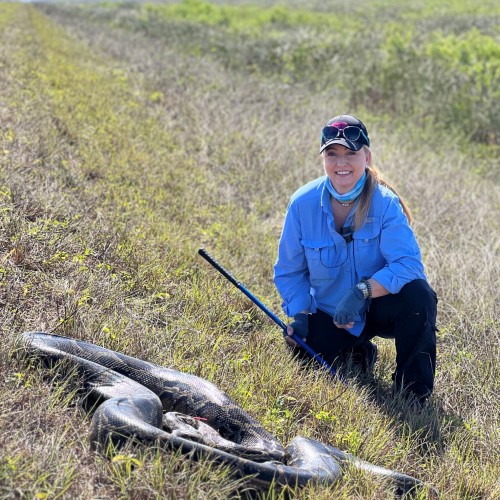 CONTACT
3205 College Avenue
Davie West Building
Davie, FL 33314
954-577-6405
Education

Ph.D. Auburn University, 2017
M.S. Sam Houston State University, 2009
B.S. Northern Kentucky University, 2005