About Us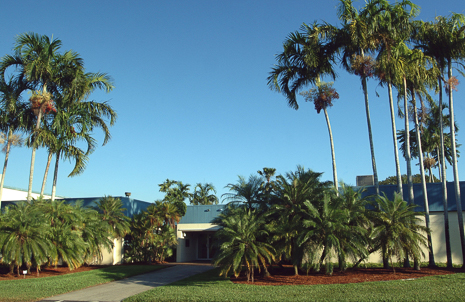 UF IFAS FLREC has the broad focus on integrated ecology and specializes in urban and landscape ecology within the very broadest meaning of these terms. The centralized location of the FLREC, being situated in the middle of the largest population concentration in Florida (>6 million people), as well as its proximity to sensitive ecological areas allows our researchers, educators, and extension specialists to address critically important integrated ecological questions. In a region of constant change due to sea-level rise and continued population growth, FLREC scientists research multiple aspects of natural, agricultural, and highly urbanized tropical and subtropical landscape systems to develop management strategies to reduce the economic and ecological impacts of invasive plants, animals, and microorganisms at different spatial scales from the microscopic to the global.
The program foci at UF IFAS FLREC include urban and landscape ecology, landscape and turfgrass management, urban pest ecology and management, invasive wildlife issues, aquatic plant management, geospatial analysis, and biodiversity of insects and nematodes. FLREC has added faculty strength in microbial ecology, nutrient cycling, applied phycology, palm pathology, and palm management since 2020. The 18 tenure-track faculty members, including the center director are the best at addressing issues that arise related to the urban/natural interface presented by our proximity to the Everglades.
FLREC is recognized nationally and internationally for termite control and ecology as well as a national leader in aquatic plant management, invasive wildlife management, and turfgrass and palm management.
Vision, Mission and Values

Vision

To be the leader in solving emerging and persistent ecological issues in tropical systems.

Mission

To devlop and provide science-based solutions to agricultural, environmental, and urban problems.

Core Values

Excellence

Innovation

Integrity

Diversity

History

The FLREC was founded in 1953 at the current site of Heritage Park in Plantation, FL (Broward County). The program was moved in 1968 to its current location at Forman Field, a Naval Air Training Facility (3205 College Avenue). In 1942 the Forman family allowed the Navy to build a training field for pilots. When the Navy left, the Forman family decided the land would be used to create an educational complex. In 1962 Nova High School was built followed by the UF FLREC in 1968.

In the last decade, the acreage at the center has been reduced by ~35 acres (down to ca 65 total acres). About 20 acres were transferred (not sold) to Florida Atlantic University, which resulted in a new greenhouse/shadehouse/headhouse complex for the FLREC plus occupation of ca 12,000 ft2 in the FAU Davie West building (3233 College Avenue) with a 50-year sublease agreement (May 2011-May 2061). Subsequently, the Town of Davie bought 15 acres of FLREC land for a new Water and Sewage Treatment Facility (completed in Nov. 2013). A quarter of those funds (ca $1.4 million) were used to renovate the east wing of the original FLREC 5001 building (30,000 ft2 built/expanded in 1968/1981), the teaching building (5002), and to add a new pavilion in 2011

1942-1945

Forman Field was leased to the US Navy as a training base for torpedo bomber pilots. It was operated from 1942 -1945 training thousands of US Navy aviators.

During June-August 1943 Ensign George H.W. Bush trained to fly Avenger at the Naval Air Station Fort Lauderdale

After the Navy was finished with the land, they gave it back to the Forman family who gave it to the town of Davie – with one stipulation – that the land had to be used for educational purposes

Remnants of the original runway from this time can still be seen in aerial photos.
The only original runway markings in this area are visible at the current UF IFAS FLREC site.

1953 -1968

FLREC started at 5305 Peters Road​ Plantation, Florida​

"A field laboratory, as part of the Everglades Station system, and called Old (sic) Plantation Field Laboratory, was established near Ft. Lauderdale for research with vegetables, grasses and other crops of the area. The land for this unit, approximately 80 acres, was made available on a long-term lease basis through the Board of Commissioners of Broward County."​ June 30, 1953
The eastern area of Plantation Heritage Park has a rare plant collection. These trees were initially planted as part of a UF program on new crop evaluation and remained on the site after the move.

After the center moved, this site became a regional park in the Broward County Parks Systems

​1968-present

The center moved to what was then called Forman Field in July 1968 - 3205 College Ave Davie FL 33314

1953-1970 we were called the Plantation Field Laboratory
1971-1980 our name was changed to Agricultural Research Center, Fort Lauderdale
1981-1983 we were called Agricultural Research and Education Center, Fort Lauderdale
1984 – our name changed for the last time to Fort Lauderdale Research and Education Center ​

In 1968, the center was focused on veterinary research on equine piroplasmosis​.

The current teaching building is a converted horse barn that was a remnant of this time and some entrances to labs have 48-inch-wide doorways which were used to bring horses into the labs for bloodwork while on the opposite side was a normal doorway for the technician to enter.

In 1969, research programs were reoriented to turfgrass and ornamental plant production and management. Vegetable crop research and agronomic crop research were transferred to other UF/IFAS facilities.​

Aquatic plant management research programs started in 1969​ with a partnership with the USDA

During 1974-76, new faculty were hired to work on emerging issues specifically Citrus black fly and lethal yellowing on palms
1981 - The original building was expanded to add more labs and office space​.
The 1970s and 1980s witnessed increased emphasis on programs aimed at problems and opportunities in rapidly urbanizing southern Florida ​

Aquatic plant management research in cooperation with the U.S. Department of Agriculture grew as did outreach programs

Aquatic Weed Short Course - invasive aquatic plant control and the introduction and use of native aquatic plants; annual event offered every year

The Urban Entomology program has made tremendous progress in developing new and improved control strategies for termites and other insect pests​ (nematodes, ants, bees)

School of Structural Fumigation (offered twice year)
Termite Class

Sentricon baiting system was designed at FLREC by Dr. Nan Yao Su (Invented first commercial termite bait product. Commercialized as the Sentricon system, the product has been marketed in 32 countries since 1995 to protect over four million homes, and reduced pesticide use by > 10,000 metric tons)
Largest termite collection the world

Turf and ornamentals

Turf Field Day – annual event at the center in March

1984 - Academic Programs at FLREC​ started. FLREC was the first off-campus program to offer classes towards a BS degree in CALS. The original program motto was "You don't have to go to Gainesville to be a Gator."

2000- Online graduate education and student dormitories (houses) were added.
2001 – Undergraduate courses moved to online delivery​ in 2001 with onsite laboratories.
Added undergraduate and graduate program in Geomatics to current (undergraduate and/or graduate) programs in Plant Science (horticulture), Entomology and Nematology, Plant Pathology, Agronomy, and Wildlife

1990 – 2022 (urban invasive plant/animal issues)

Bees

Africanized Bee programs aimed at training first responders
South Florida Bee College
Caribbean Bee College
Orchid Bee Monitoring

Palm School – how to grow and use palms in the landscape

Lethal Bronzing Identification and Control

Identified preferred habitat in palm nurseries of LB vector, allowing for development of IPM in nurseries for LB.
Discovered 1 new genus and 8 new species of planthopper.

Directions to FLREC and Map

Ft. Lauderdale Research & Education Center
3205 College Ave.
Davie, FL 33314
Phone: (954) 577-6300

If arriving via I-95 or the Turnpike onto I-595 West

Exit I-595 at Davie Road. This is the first exit off I-595 if you are arriving via the Turnpike. You will make a left turn onto Davie Road and drive under the interstate.
Drive south about ½ mile on Davie Road to Nova Drive (second stop light).
Turn right onto Nova Drive.
Continue west ½ mile on Nova Drive to the first stop light, which is College Ave.
Turn left and drive south ¼ mile on College Avenue to first entrance on right side of the street. Look for large blue monument sign with our name. The entrance is 600 feet past this monument sign.

If you Are arriving via University Drive

Turn east at Nova Drive (SW 24th Street), which would be a right turn if driving from the south and a left turn if driving from the north.
Drive east on Nova Drive to first stop light, which is College Avenue.
Turn right onto College Avenue and drive south ¼ mile to first entrance on right side of the street. Look for large blue monument sign with our name. The entrance is 600 feet past this monument sign.