Environmental Horticulture
Programs at FLREC play a major role in helping Florida's multi-billion dollar-a-year plant industry. Environmentally safe management and conservation practices.
New ornamental crop development with an emphasis on tropical and subtropical species.
New production technologies for ornamental crops.
Investigation and utilization of natural, biological control techniques for pests of ornamental plants.
Promotion of the utilization of recycled urban waste.
Fulfillment of the needs of South Florida's horticultural and allied industries.
Dissemination of information to the public through cooperative extension programs.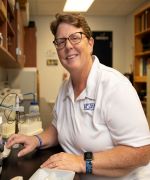 Dr. Kimberly Moore
Environmental Horticulture
Profile | Email
Phone: 954-577-6328
Teaching Program